Hello and thank you for checking out my sales page. Here I will be
posting some of my glass art, Beads, Marbles and glass sculptural
Pieces for sale. Please feel free to contact me with any questions
you may have about my artwork or sales.
Thank you for stopping by, John
Tide pool bead support spindle
This listing is for one of my tide pool bead style support spindle.
The bead is made on a torch and is filled with my hand pulled murrini cane.
The spindle length is 8″ and weight is 22 grams. Shaft is stainless steel.
SOLD ——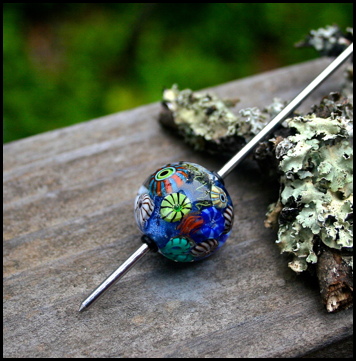 Black & Tan Chevron Bead
Black, Tan, Cream, and Grey Chevron Bead
Measures 20mm hole to hole and 14mm wide hole size 5mm
$85.00 plus $3.00 shipping U.S.
Amber, Black & White Chevron Bead
Five layer Amber, Black and White Chevron Bead.
This bead measures 21mm hole to hole and 11mm wide hole size 3mm
$85.00 Plus $3.00 Shipping U.S.