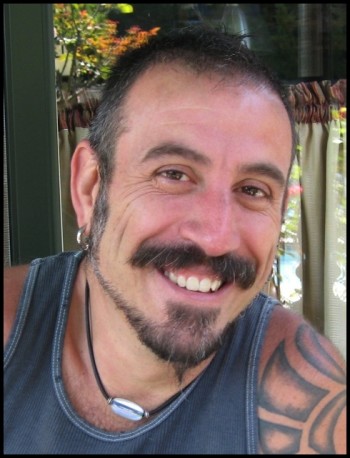 John Rizzi is a native Californian living and working in the Russian River area of Sonoma County, California.  John has worked in a variety of media including ceramics, basket-weaving and gourd art. For much of the last decade he has focused his artistic expression in "Lampworking" (The art of manipulating hot glass in a torch flame)
John creates a variety of sculptural, wearable, and decorative art pieces.
John's work is often inspired by his love of nature, And most recently he has sought ways to incorporate his glass designs into functional garden art pieces.
He has studied with internationally recognized Lampwork artist Loren Stump of Elk Grove, California as well as Lucio Bubacco and Vittorio Costantini, whom he had the wonderful opportunity to study with in Murano Italy.
John's artwork has also been featured in galleries, retail shows, and in print.
Galleries:
* Laurance Glassworks Occidental, CA
Publications:
* The Flow Magazine  Summer 2008
* Micro Macrame  Vol. 1 and 2 by Kris Buchanan
* Beadazzeled Where Beads & Inspiration Meet by Penelope Diamanti
* Complete book of Gourd Crafting by Jim Widess and Ginger Summit
* Gourd Pyrography  by Jim Widess
Shows and Events:
* Best Bead Show – Tucson, Arizona
* Babe Show ( Bay Area Bead Extravaganza )
* Calabash Gourd Festival – Northern California
* Art For Life, Northern California